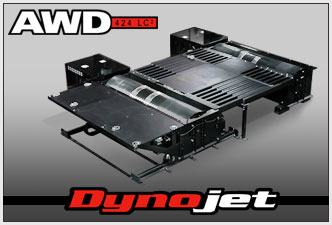 Titan Motorsports resident tuner John "Jestr" Estrada is available to tune your vehicle either in house on our Dynojet 424 LC2, or remotely using a virtual desktop and emailed maps. With over 18 years of experience tuning electronic fuel injection, John is well versed in most standalone engine management systems as well as open source tuning platforms. Tuning can be completed remotely through the emailing of maps, or using a virtual desktop with access to a laptop connected to the remote vehicle on your dyno. For those shops who don't have access to a dynometer, virtual dyno results can be compiled from data and provided in a standard graph format or printed runfile to show end results and horsepower and torque readings for the vehicle.

John holds a degree in Computer Engineering from UCF and has previously worked in computer forensics and training and simulation projects for the department of defense. His background as a software engineer and architect has allowed him to become proficient in programing in C, C++, Python, and many other programing languages in addition to having experience with ISO9141, CAN BUS, and other popular OE protocols.
At Titan Motorsports we currently have a state of the art DynoJet 424 LC2 All Wheel Drive dyno, the only of its kind in Orlando or Central Florida. This above ground installation offers the ability to measure horsepower in excess of 2,000hp and speeds up to 200mph. In addition to measuring horsepower the Two Eddy Current Absorbers allow for dual load control for more precise tuning in regards to vehicle load. The unit is also equipped with a DynoJet wideband sensor and control to help ensure Air/Fuel ratios remain in check throughout the power band.
To reserve the dyno or schedule a tuning appointment please email Marty at: Titan Dyno Tuning or call 407-770-0050. The dyno is available by appointment only during normal operating hours. Special arrangements can be made for weekend use of the dyno when available.
We offer the following tuning solutions:
Supra: Motech and Haltech
GT-R: Cobb and ECUTek
Porsche: EVOMS
Mercedes: Renntech
BMW: Juicebox
GM: HP Tuners
Gallardo: Syvecs and Motec