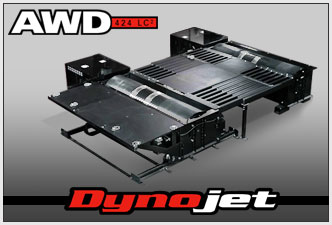 At Titan Motorsports we know there is more to a improving a cars performance than just bolting on parts. There is a fine balance of fuel and air required for optimum combustion and maximum horsepower and smooth drivability. A proper tune will help you get the best use out of your platform regardless of the type of driving you do, from drag racing, road course driving, or simply using the vehicle to get from point A to B. While tuning can be performed while driving on the street, the safest method is using a dynometer aka dyno, a device which allows the vehicle to remain stationary while the wheels spin at normal speed.
At Titan Motorsports we currently have a state of the art DynoJet 424 LC2 All Wheel Drive dyno, the only of its kind in Orlando or Central Florida. This above ground installation offers the ability to measure horsepower in excess of 2,000hp and speeds up to 200mph. In addition to measuring horsepower the Two Eddy Current Absorbers allow for dual load control for more precise tuning in regards to vehicle load. The unit is also equipped with a DynoJet wideband sensor and control to help ensure Air/Fuel ratios remain in check throughout the power band.
To reserve the dyno or schedule a tuning appointment please email Marty at: Titan Dyno Tuning or call 407-770-0050. The dyno is available by appointment only during normal operating hours. Special arrangements can be made for weekend use of the dyno when available.